Main content
5 moments we loved from the BRITs Live Lounge week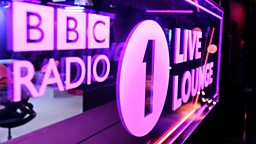 To celebrate the British Breakthrough Act award nominees, Clara Amfo invited the nominees into Radio 1's Live Lounge ahead of this year's BRITs.
The award, which has been won by the likes of Ed Sheeran and Arctic Monkeys, shines a spotlight on the best new talent coming out of the UK right now.
The five acts in the running this year are: Ella Mai, IDLES, Jorja Smith, Mabel and Tom Walker.
Ahead of the ceremony on Wednesday 20 February, Clara invited them in for a special two song set which included a cover of former BRITs winners.
Here are five stand out moments from the BRITs Live Lounge week.
1 | Ella Mai's GRAMMY Award winning Boo'd Up
Unfortunately, Ella Mai couldn't head to the Live Lounge as she was busy picking up a GRAMMY for Boo'd Up which won Best R&B song.
So Clara delved into the archive and played two songs from her set at 1Xtra Live last year, and clearly she had to start with her award-winning song.
Clara also joked how not many people realise that the R&B star is actually British: "It's quite funny to watch interviews with her, and her accent obviously comes out, and you see all the comments underneath the video like: 'Oh my God I didn't know she wasn't American'."
2 | IDLES insane mash-up of The Streets and Harry Styles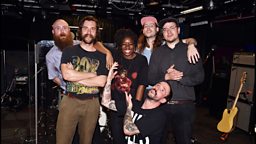 Fresh from a gig at the 100 Club, IDLES made their Live Lounge debut.
And we weren't prepared for their cover, as they dropped an epic seven song mash-up of The Streets and Harry Styles. Yes, really.
They managed to cram in Turn The Page, Has It Come To This?, Geezers Need Excitement, Don't Mug Yourself and Same Old Thing from The Streets' debut album Original Pirate Material, before ending on Harry Styles' Sign of The Times.
3 | Mabel's flawless performance of her latest single Don't Call Me Up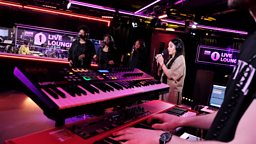 Mabel was certainly in the zone as she performed her latest single Don't Call Me Up. She said: "What made me happiest about this song is thinking about girls singing it to each other before a night out."
"It makes people feel confident. It makes me feel confident singing it."
Clara certainly couldn't get over the passion in Mabel's voice, and her squad of backing singers completed the set-up perfectly.
4 | Tom Walker's super emotional two song set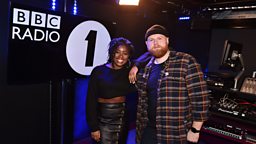 Tom Walker brought all the emotion (and a big blue harp) on Valentine's Day.
He kicked off with Just You and I - a song he revealed he wrote for his fiancée. He went on to say how he wrote it for her three years ago: "We were doing long distance for about two years and I wrote that because it was really tough at the time."
And if that song wasn't emotional enough, for his cover he took on Adele's Hometown Glory. Tom said out of all the songs he could have picked for Live Lounge: "I felt like it was my song when I was singing it rather than a cover - I just connect with it."
5 | Jorja Smith's cover of Justin Timberlake's Cry Me A River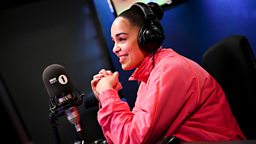 To end the BRITs Live Lounge week, Jorja Smith - a vision in a pink tracksuit - dropped by to cover one of her childhood favourites - Justin Timberlake's Cry Me A River.
This stripped back performance complete with acoustic guitar took this noughties classic to a entirely new level.
The British Breakthrough Act winner will be announced during the BRITs on Wednesday 20 February.
In the meantime, to see the full list of nominees for 2019 head to the BRITs website.