Dirty John: What the Must Watch reviewers think
Must Watch reviewers Scott Bryan and Hayley Campbell share their thoughts on Dirty John, which is now available on Netflix.
What do you think? Leave your comments below...
Subscribe here, and never miss an episode.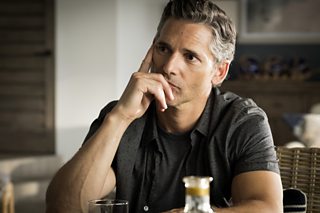 (Photo: 2018 Bravo Media, LLC)
Scott says: "Don't watch this right before you go to bed"
"Dirty John is based on a podcast - which is a very 2019 thing to do. I listened to the podcast off the back of watching the show.
"This is a dramatisation originally on Bravo in the US but has been classified as a Netflix original.
"I don't think you need any knowledge going into this. It's basically about a very successful woman who runs her own business and is doing really well but has four marriages that end in divorce and is finding it frustrating to find a guy. She finds a guy who, initially, seems really nice, attentive and caring.
"There's a very difficult balance in this for Eric Bana where you're supposed to be a kind character in some ways, and actually you're an evil character at the heart of it.
"Don't watch this right before you go to bed.
"I think the first episode starts out a bit shaky - it's quite hard, because it's based on a real story, yet feels a bit fake, set up or forced. But I watched the first three, then listened to the equivalent on the podcast and thought 'which version do I love more' - and I preferred the podcast. The podcast had over 10 million downloads when it was first released.
"I think if you're a fan of one, you'll like the other."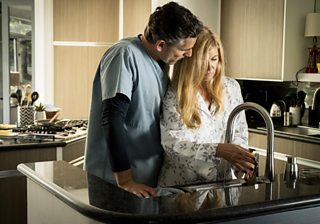 Photo credit: 2018 Bravo Media, LLC
Hayley says: "I just kept watching episodes"
"The podcast was hosted by a Pulitzer prize winning journalist. I haven't listened to it - but now I want to.
"Eric Bana is really good at the 'flip' in his character - between good and evil.
"Connie Briton is amazing - she had one of the best parts in The People vs OJ, where she played Faye Resnick.
"I like that they released it on Valentine's Day to tell you that 'dating is terrible and if you do it you'll end up with a psychopathic stalker'.
"I kind of felt like this was a lifetime movie stretched out over a series. But I think it falls slightly short of the 'good trash' rating - but I found I just kept watching episodes."
Dirty John is streaming on Netflix.
Must Watch is available as a podcast every Monday evening from BBC Sounds, or through your podcast app.
Subscribe and leave your reviews.